Cosmic Clinic™
A stellar event for corporate, charitable and private functions
"With twin laptops in place of a crystal ball, they divine your
astrological destiny: Stella Starsky and Quinn Cox are
a brilliant and sexy cosmic couple." — Vogue
Armed only with laptops, loaded with tailor-made software, celestial consultants Stella Starsky + Quinn Cox stage their famed Cosmic Clinic™ at private and public events around the globe. Attendees need only know their birth place, date and time, and, within seconds, Starsky + Cox pull their astrological chart up on screen.
Like seasoned surgeons reading an X-ray, Starsky + Cox instantly diagnose an individual's metaphysical "condition," offering quick and easy insights and prescriptions for success and happiness. With this speed-read version of their in-depth private sessions, Starsky + Cox delight participants with seven-minute scans of their stars.
The Cosmic Clinic™ provides a fascinating experience for invited or paying guests, and has become a popular choice for high-end event planners. Just minutes spent with Stella Starsky + Quinn Cox, whom Vanity Fair tagged the "Astrologers to the Stars" can be a life-affirming, often life-altering, highly entertaining encounter.
To book a Cosmic Clinic™, and to receive additional details, including rates, contact Frances Millay at Starsky + Cox on (212) 255-1510 or Frances@starskyandcox.com. The Cosmic Clinic™ is a customizable event that accommodates groups of various sizes and sensibilities.
In addition to their many private Cosmic Clinic™ clients, Starsky + Cox have also collaborated with the following corporate and charitable institutions:
Barneys New York | Marc Jacobs InternationaL | Selfridges (UK) | Harvey Nichols (UK) | Colette (Paris) | Vestibule (Zurich) | The Nokia Corporation | All Too Human | The Center for Child Development and Learning | HEATHER Wells Interiors | Rafanelli Events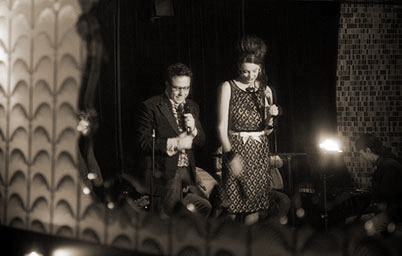 Performance
STARSKY + COX began performing in New York City in 2005, regaling audiences with head-spinning tales of their shared exploits growing up mystic in a seemingly mundane world, singing signature songs that are at turns, loungey, funky, funny and punky, and hosting a roster of touted performers. In a typically action-packed ninety-minute show, the cosmic couple recount their extraordinary life and love story as it relates, weirdly accurately, to the "ever-unfolding lotus" that is the zodiac, their pre-eminent domain. Starsky + Cox have performed at Oberon/ART, Ars Nova, The Zipper Factory and Joe's Pub at The Public Theater.
"Wonderfully dirty" — O, The Oprah Magazine
"So in tune that they finish each other's sentences"
— san francisco Chronicle
"The mystical married couple, known professionally as Starsky + Cox, are serious metaphysicians who happen also to be quite funny." — The Boston Globe
ZODIAC CODE
Everyone has heard of the zodiac and amused themselves reading their daily horoscope. But the astrological wheel is much more than it appears to be. Stella Starsky and Quinn Cox unlock the power of the zodiac as a system for personal development, a hallmark of their original cosmic philosophy.
Guests Learn:
The symbolically rich zodiac is an ancient system that speaks to the various archetypal energies that live within each of us.

There are 12 basic cosmic energies, designed to power particular areas of an individual life. Learning to activate these energies, firing on all 12 cylinders, is tantamount to experiencing life to its fullest, literally 360 degree capacity.
The Zodiac Code is an event that accommodates groups of any size and venues of many types. Please contact Frances@StarskyandCox.com for details and rates.